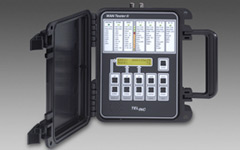 The Telinc WAN Tester II is a sophisticated bit error rate tester in a compact, hand-held package. 
It can test a wide variety of communications facilities and equipment including DDS, T-1, fractional T-1, E-1,fractional E-1, T-3 and E-3 NTUs,multiplexers, CSU/DSUs, T-1 CSUs, DTUs and TIUs.
The Telinc WAN Tester ll includes a speaker to listen to voice in a DS0. It is supplied with changeable nickel metal hydride batteries and a built-in charger.
Easy to Use DDS Tester
The WAN Tester I can be controlled from the front panel or from a local or remote terminal. It includes a two-line LCD display and sixteen indicator lights that show selected mode, test and operating parameters. Parameters are selected by scrolling through values stored in the DDS Tester.
Product Features
Tests asynchronous, synchronous, DDS, T-1, fractional T-1, E-1 and fractional E-1, T-3 and E-3 facilities and equipment
78 data rates from 1,200 to 50M bps
Includes V.35, RS232, RS422/RS530, X.21, HSSI, DDS, T-1, E-1, T-3 and E-3 interfaces as standard
Data rates from 50 bps to 50 Mbps
Displays G.821 performance measurements
Front panel, Windows GUI or Command Line Interface control
AC or battery power
The following is a partial list of the WAN Tester II applications:
Async Mode – Tests asynchronous modems and CRT terminals.
Sync Mode – Tests the customer interface on DDS, T-1 and T-3 CSU/DSUs, mux channels and synchronous modems.
DDS Mode – Simulates a DDS CSU/DSU to test a DDS line or emulates a central office to test DDS CSU/DSUs>
T-1 Mode – Tests T-1 lines, CSU/DSUs both short and long haul, T-1 muxes and drops from T-3 muxes
E-1 Mode – Tests E-1 lines, NTUs and DTUs, E-1 muxes and drops from T-3/E-3 muxes
T-3 Mode – Tests T-3 lines and muxes and T-1/E-1 channels on T-3 facilities
E-3 Mode – Tests E-3 lines and muxes